Vertical woltmann removable element liquid-sealed water meter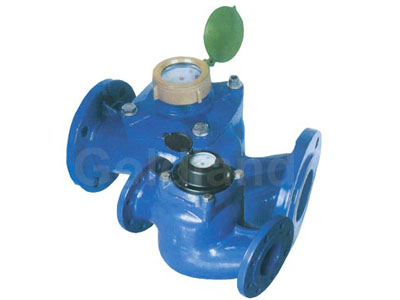 Model: WS-50~150
Application:
For measuring the volume of water supplied through pipeline consumed in the industrial aspect.
Quality:
·Its digital wheels are sealed in the liquid-capsule and kept legible for reading.
·High quality material applied to guarantee its function efficient and durable.
·The accuracy excels Class B stated in ISO 4064
·It can be also installed to the pipeline without adequate length of a segment of straight pipe to link to the inlet,and to the branch-pipeline which flow rate is frequent wavering.
·It is not required to detaching the body from the pipeline when the mechanism is fixed or replaced.

temperature:
≤40℃ for cold potable water meter
≤90℃ for hot water meter
Pressure:≤ 11Mpa
Maximum Permissible Error:
Qmin→Qt(ex Qt)=±5%;
Qt→Qs(both included)=±2% or ±3%(hot water)
Qmin=Min Flow, Qt=Transition Flow, Qs= Max Flow.

Main Technical Data
Meter Size
(mm)
class
Maxflow
Nominal Flow
Transitional Flow
Min Flow
Starting flow
Min Reading lectura
Max Reading lectura
m3/h
L/h
m3
50
B
30
15
3
0.45
80
O.001
999999
80
B
80
40
8
1.2
120
0.01
999999
100
B
120
60
12
1.8
150
0.01
999999
150
B
300
150
30
4.5
400
0.01
999999
Dimensions and weight
Meter Size
Length
Width
Height
Connecting Thread
Weight
D
D1
Connecting Bolt
mm
KG
50
200/280
165
215
165
125
4ŚM16
12/18
80
225/300
200
280
200
160
8ŚM16
24/32
100
250/370
220
275
220
180
8ŚM16
26/38
150
500
285
395
285
240
4ŚM20
75