Side-wing vertical dry cold (hot)water meter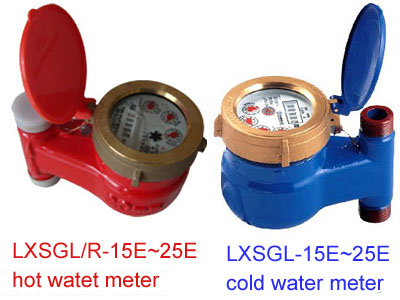 Model:LXSGL-15E~25E;LXSGL/R-15E~25E
Application:
Measuring the volume of cold or hot water passing through the pipeline
Quality:
•Dry type,magnet drive,clean dial to guarantee it legible reading,resistance to magnetic interference.
•Installed in vertical pipeline and is suitable for household as branch meter.
•Technical data conform to International Standard ISO4064 Class B.
Working condition:
temperature:≤40℃ for cold potable water meter
≤90℃ for hot potable water meter
Pressure:≤1Mpa
Maximum Permissible Error:
Qmin→Qt(ex Qt)=±5%;
Qt→Qs(both included)=±2% or ±3%(hot water)
Qmin=Min Flow, Qt=Transition Flow, Qs= Max Flow.
Main Technical Data
Tpye
Meter Size
class
Maxflow
Nominal
Flow
Transition
Flow
Min Flow
Min
Reading
Max
Reading
mm
m3/h
L/h
m3
LXSGL-15E
15
B
3
1.5
120
30
0.0001
99999
LXSGL-20E
20
B
5
2.5
200
50
0.0001
99999
LXSGL-25E
25
B
7
3.5
280
70
0.0001
99999
Dimensions and weight
Tpye
Meter Size
Length
Wide
Heigh
Connecting Thread
weight
mm
D
kg
LXSGL-15E
15
144
99
120
G 3/4B
1.5/1.6
LXSGL-20E
20
150
99
120
G 1B
1.7
LXSGL-25E
25
160
99

132

G1 1/4B
2.4/2.6